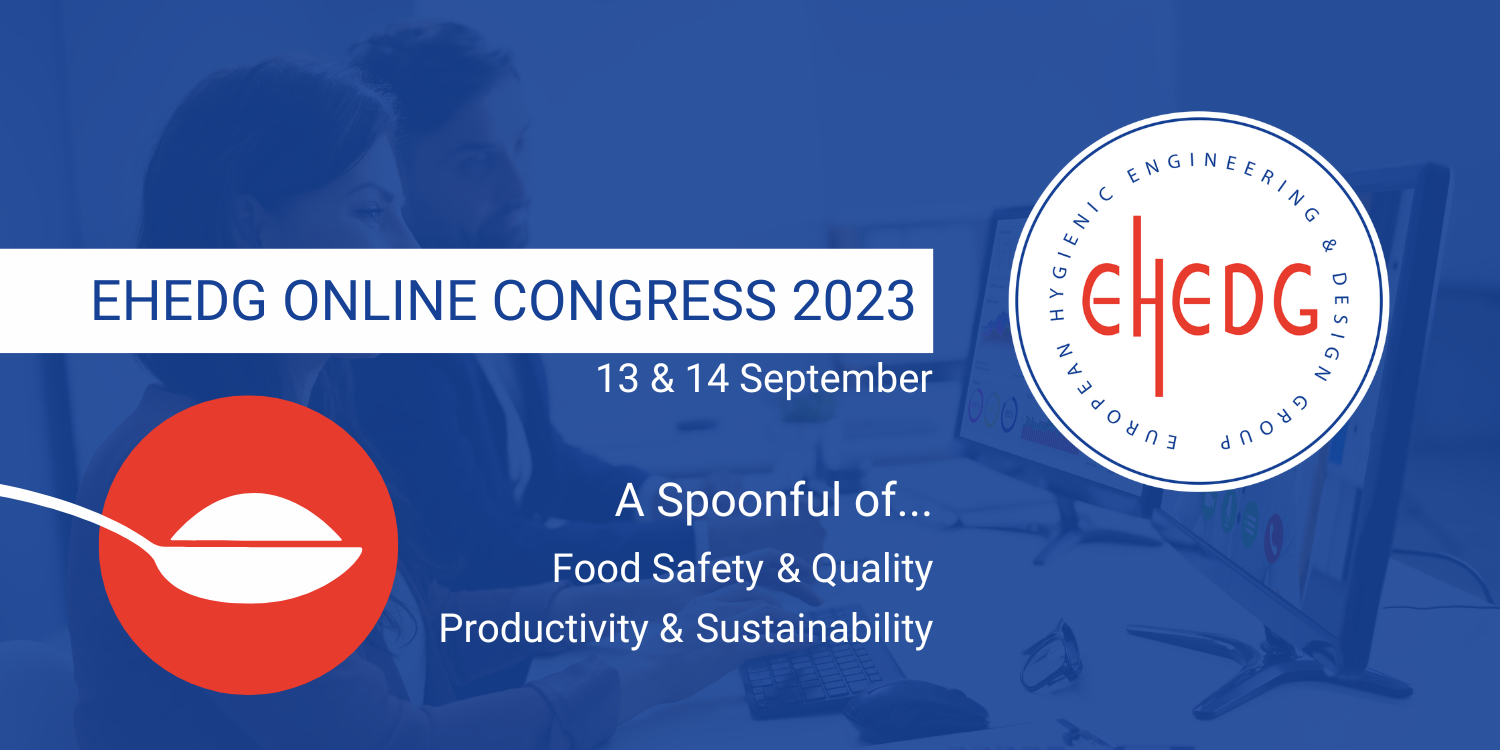 Log in with your credentials to watch the full recordings at the end of each section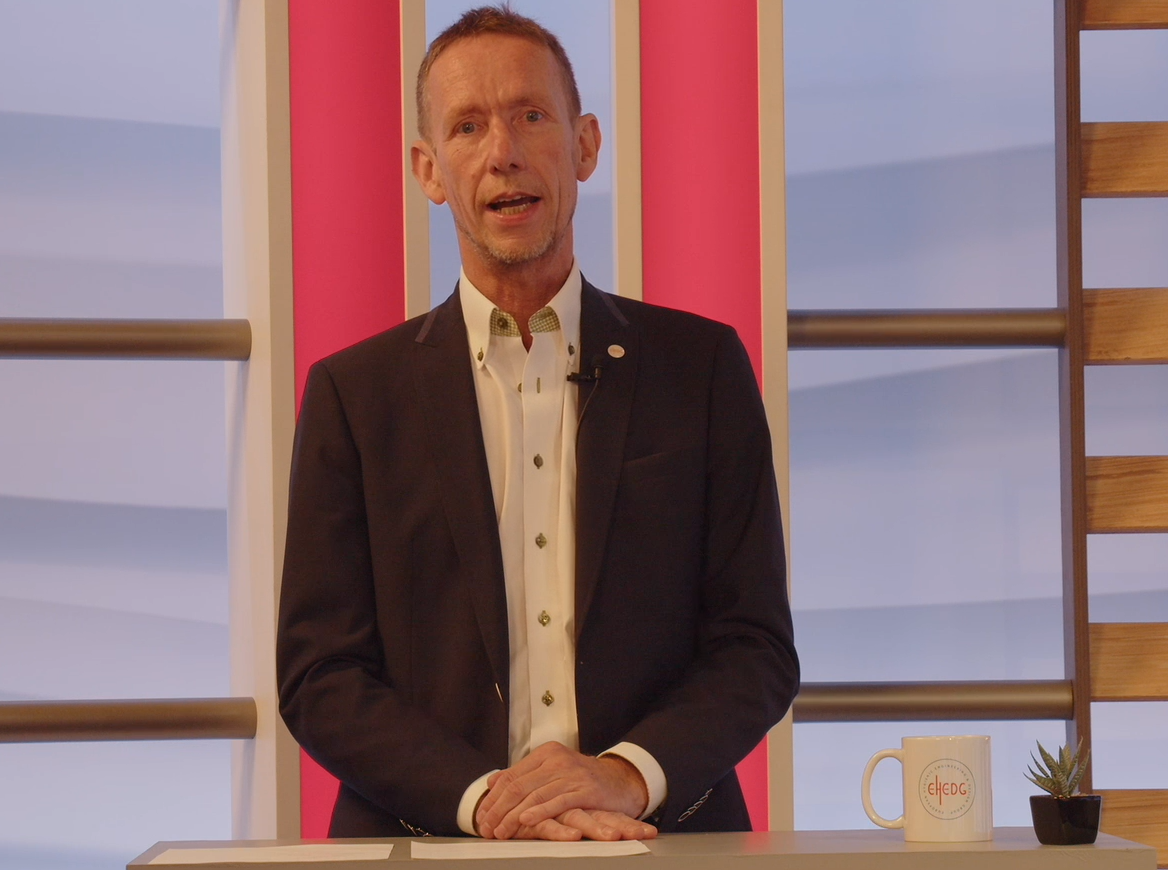 Day 1: 13 September
Food safety covers the entire food chain, and includes the stages of manufacturing/preparation, handling, transportation and storage in ways that manage potential hazards and prevent foodborne diseases.
But safe food begins with safe, hygienic design.
'We gathered more than 200 years of practical experience in food safety', was the opening remarks by EHEDG President Hein Timmerman (Global Sector Specialist F&B at Diversey), as he welcomes the viewers from all over the world to learn from the case studies shared by the keynote speakers.
The stage was then set by EHEDG Treasurer and former Vice-President, Global Food Safety at Mondelēz International, Matilda Freund.
'CCP cannot work without a robust prerequisite programme that supports it, providing the basic environmental and operating conditions, necessary for the production of safe food. Equipment design, allergen and pest control, water quality, sanitation, building structure and shelf life are just some of the pre-requisites. Hygienic design is the foundation of food safety'.
Matilda emphasised how EHEDG offers what a food safety programme needs: guidance on hygienic design and engineering and a platform for the industry to discuss issues - with the ultimate goal of delivering safe food to the consumers.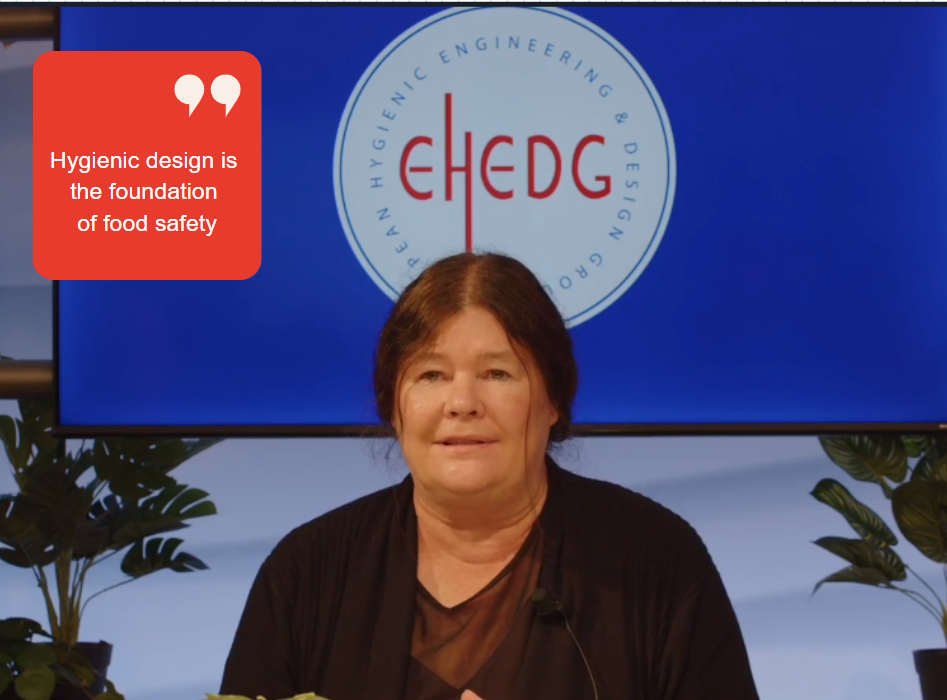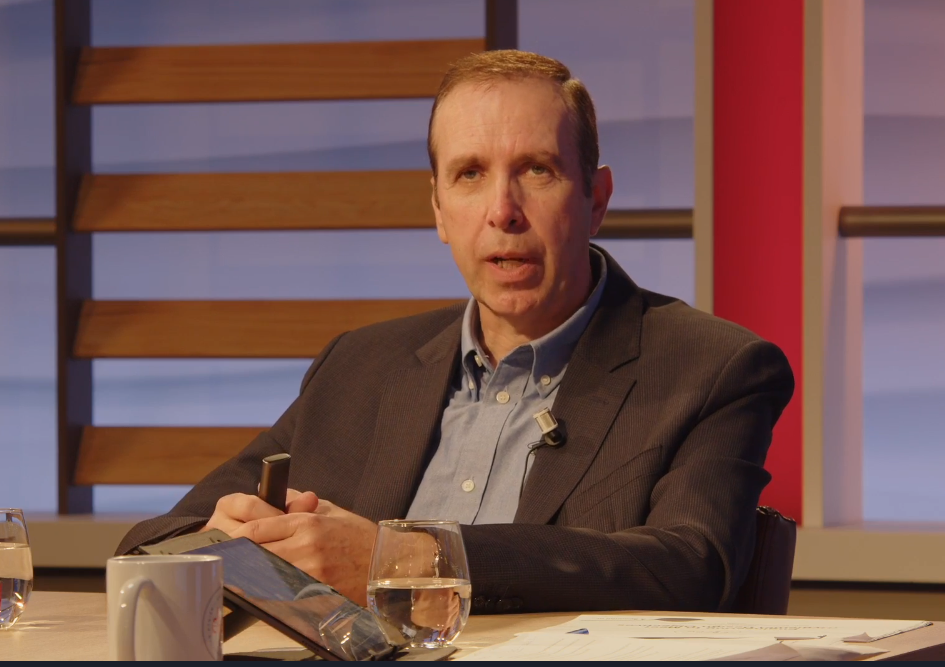 Morning keynote speech by Patrick de Wilde (Corporate Operations and Capability Center Director in the division of Food Processing and Packaging at Cargill) underscored the importance of engineering in meeting hygienic design objectives.
'Depending on the type of product, the shelf life or consumer usage requirements, different packaging shapes and formats are being produced. All these different packaging solutions have different machine design requirements and associated risks to be managed - ranging from complete sterile production (aseptic) to modified atmosphere for protein products, to drum filling of refined oil', Patrick said. 'Building new facilities or processes requires a robust and risk-based approach to define User Requirements Specifications (URS) and Requests For Quotation (RFQ).
'The more you work towards preventing issues, the more vertical your start-up will be. As part of your User Requirements Specifications, hygienic design topics are critical to be included', he underlined. 'If we do hygienic design correctly, we positively influence our productivity, sustainability goals and ultimately our TCO!'
Once the URS are defined, the next step is to obtain the so-called Request For Quotations from different suppliers, with an emphasis on food safety and quality, for which hygienic design is a key pre-requisite. Commenting on a question posed by the audience, Patrick elaborated on Cargill's effort in balancing CAPEX and TCO. He stressed out the importance of talking with the stakeholders to better understand their full capabilities, and not being exclusively driven by commercial requirements.
He concluded his presentation by sharing some exciting opportunities ahead - with a focus on food safety and quality management, and the role of hygienic design in enhancing it. Sustainable design, hygienic design of robotics systems and smart sensors, among others.
Georg Kalss (Materials Science Principal & Food Safety Ambassador Consumer Foods at Bühler) provided a captivating speech on technologies at the service of food safety, across the whole value chain.
He started by sharing some key figures. 1 in 10 people worldwide become sick from foodborne illnesses (source: WHO), 2.250 recall news have been reported in 2019, with an average cost of 10m $ per incident.
Georg reinforced the importance of risk assessment to prevent any hazards. With 25% of crops worldwide contaminated with mycotoxins, removing aflatoxin B1 from the food production chain is critical. 'The journey of an equipment manufacturer doesn't end with installing a machinery', he said. 'It's about learning from each other, combining all the knowledge to deliver safe food to our consumers'.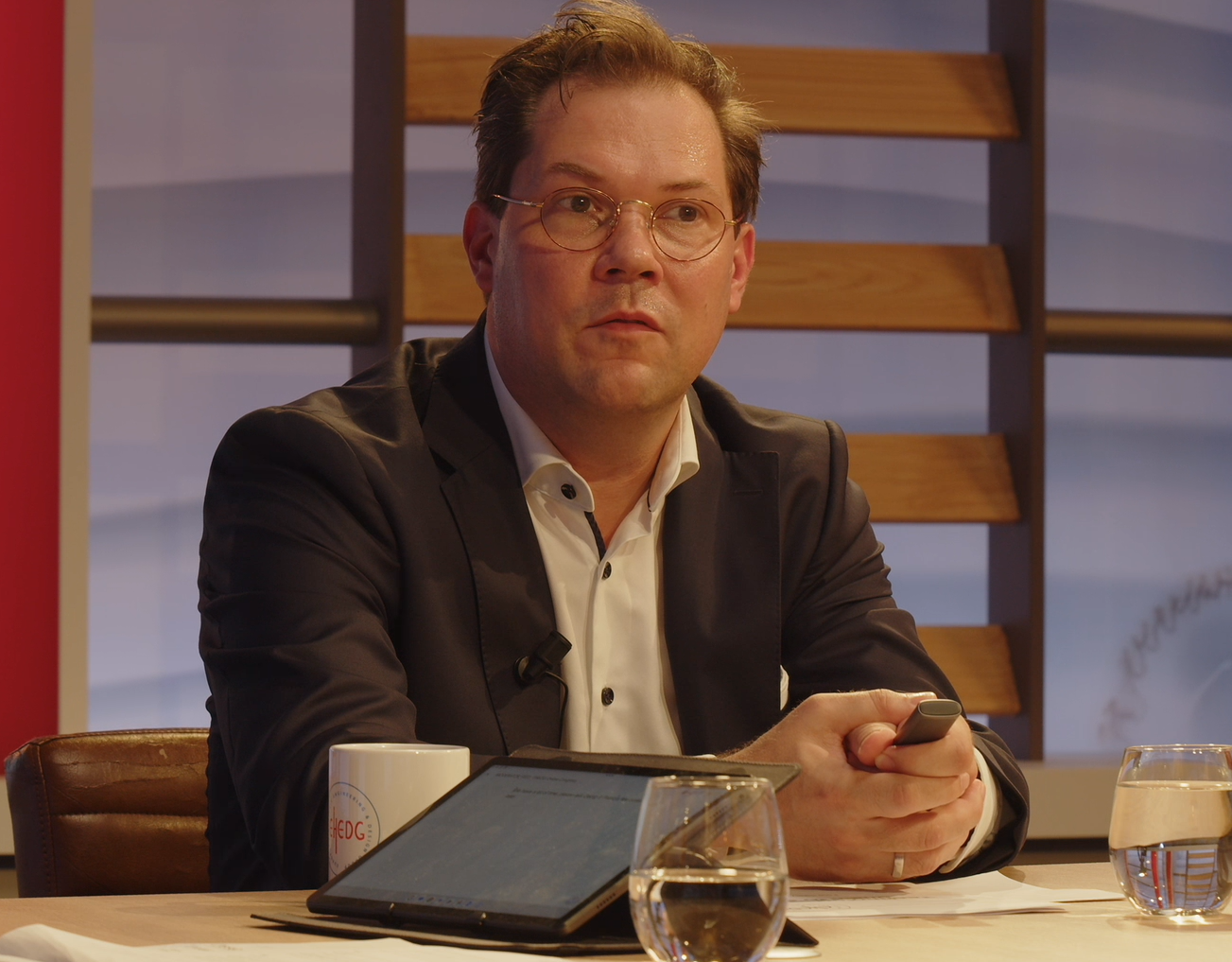 Preventing hazards implies good agricultural practices, especially keeping crops dry and clean to avoid post harvest spoilage. Hazards that couldn't be detected need then to be reduced and the final product needs to be protected until it reaches the end users.
Georg introduced then a technology developed by Bühler that minimises toxic contamination in maize and improves yield, by identifying and removing aflatoxin-infected grains using optical sorting.
'Food safety is a global challenge that has to be met with a systematic approach along the whole value chain.', he concluded. 'Science, hygienic design, process technologies and digitalisation are the basis for solutions to ensure safe food for the future.'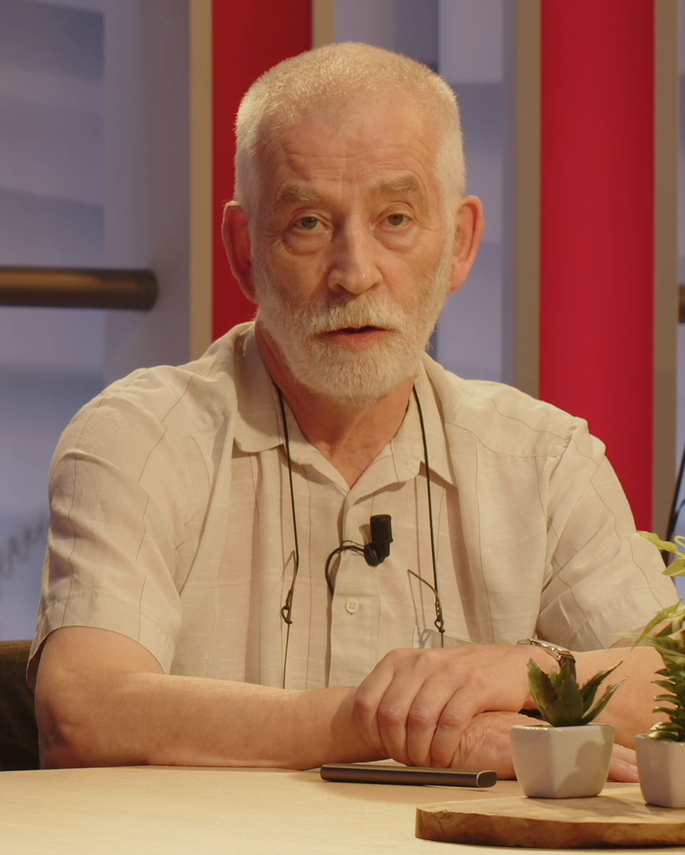 The afternoon session gave the floor to Peter Overbosch and his Food Safety Stories, a book published earlier this year, together with two other experts, Yasmine Motarjemi and Huub Lelieveld.
Peter shared some anonymous pitfalls in food safety management, whose objective is to inspire, motivate, challenge and educate food professionals, and to help increase job effectiveness and productivity with ethics and integrity. 'People directly involved with processes need to have a deeper understanding of relevant food safety requirements', he said, while offering examples of mold issues in both a low and a high-tech environments. 'Process settings need to be robust'.
Hygienic design is seen very narrowly, more like hygienic design of a valve or a pump, not of an entire site or of a cleaning cycle. But change is coming! In 2020 the Global Food Safety Initiative (GFSI) published a high-level set of hygienic design benchmarking requirements with the objective of enhancing food safety from farm to fork.
These Hygienic Design of Food Buildings and Processing Equipment requirements were published as scope JI (for building constructors and equipment manufacturers) and scope JII (for building and equipment users). You can download the EHEDG White Paper here.
The official programme of Day 1 was closed with a round table discussion. Matilda welcomed Patrick, Georg and Peter to talk about Hygienic Design & Prevention of Food Safety and Quality Incidents.
Some points that were brought up:
Lessons learned and investigations shared in a multifunctional team can help selecting the appropriate equipment for products and processes;

Internal trainings on food safety and hygienic design are key in spreading the message and getting the whole organisation engaged in such topics;

Different hazards are to be expected, and hygienic design will be playing an even more crucial role in the prevention of ingress, accumulation and growth;

Economical pressure as a result of climate change will be one of the main threats to food safety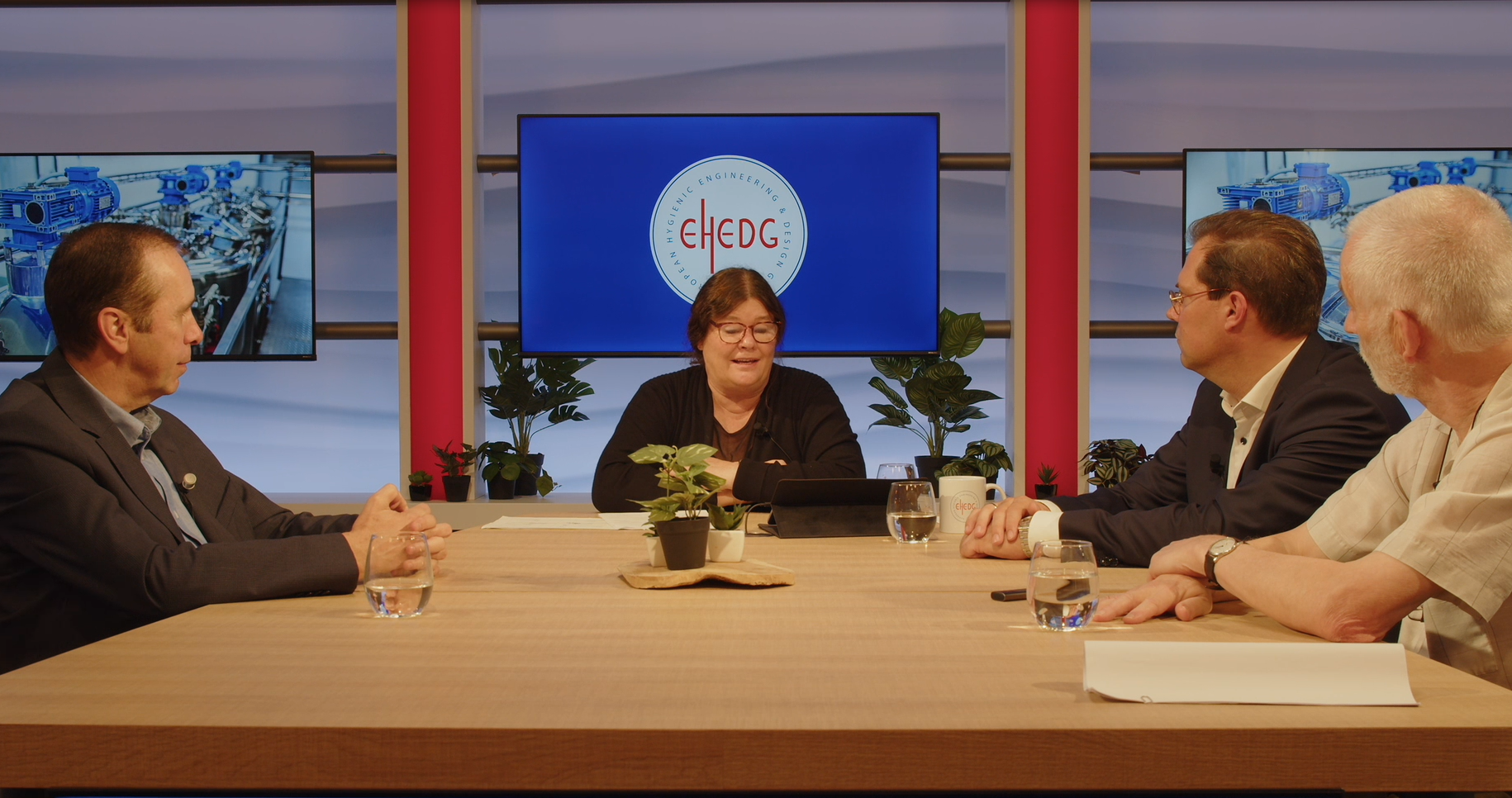 From left to right: Patrick de Wilde (Cargill), EHEDG Treasurer Matilda Freund, Georg Kalss (Bühler) and Peter Overbosch
Day 2: 14 September
Matilda opened the second day of the EHEDG Online Congress 2023 by underlining some of the pressures that today's food production is facing.
She also pointed out some of the benefits that hygienic design can offer in the fields of productivity and sustainability, and that will be further discussed during the panel discussion.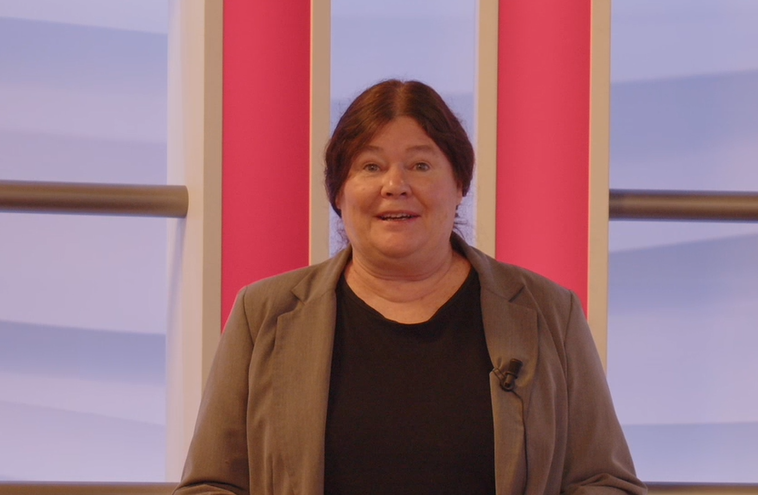 Panel Discussion | Hygienic Design & Productivity Benefits
Ana Soares (Food Safety Specialist at Jacobs Douwe Egberts), James Hartley (Global Sanitation Director at Mondelēz International & EHEDG Advisory Board Member) and Olivier Couraud (Food Safety Expert at Commercial Food Sanitation) joined an insightful debate moderated by EHEDG Vice-President Patrick Wouters (Global Hygienic Design Leader at Cargill), to explore the crucial role that hygienic design plays in enhancing productivity.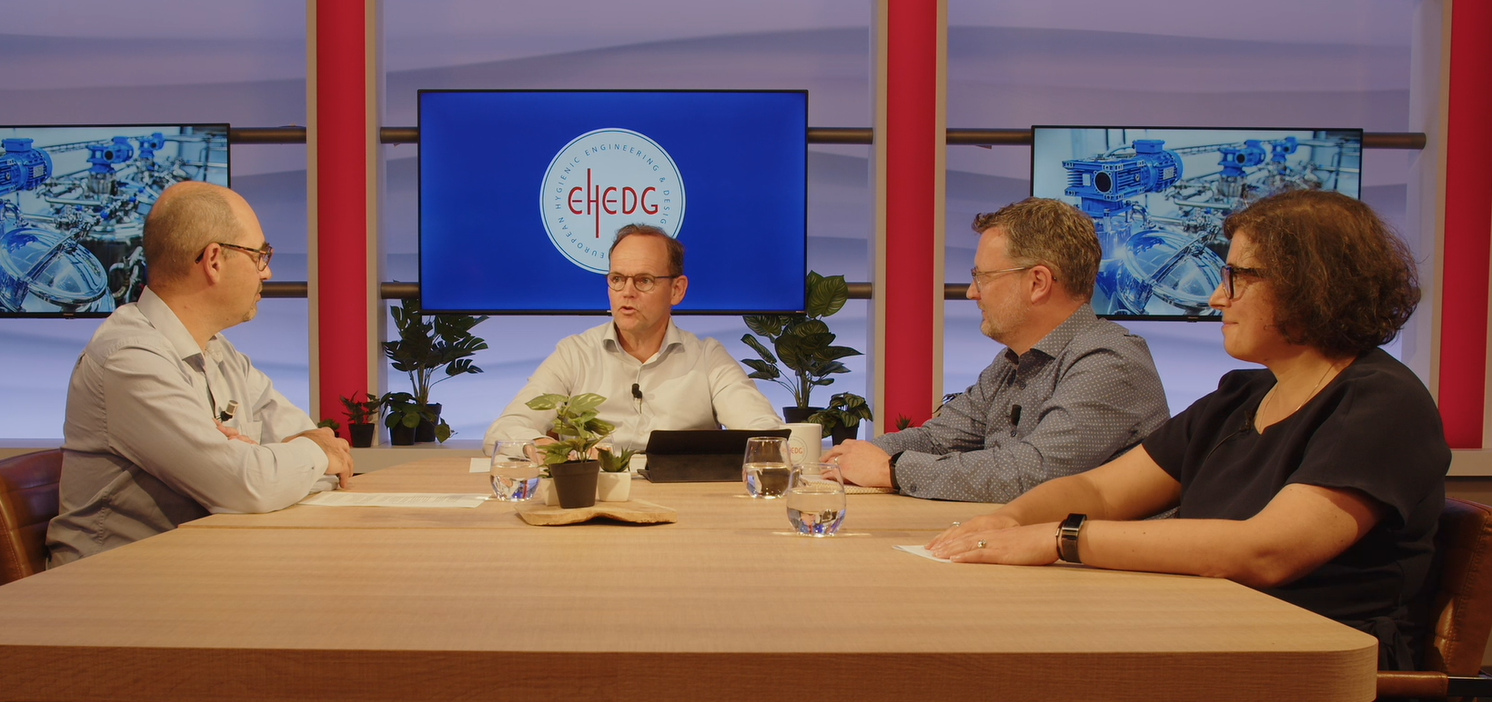 From left to right: Olivier Couraud (Commercial Food Sanitation), EHEDG Vice-President Patrick Wouters (Cargill), James Hartley (Mondelēz) and Ana Soares (Jacobs Douwe Egberts)
Patrick kicked off the session, by inviting the panelists to comment on the contribution of hygienic design in keeping downtime as short as possible and extending shelf life.
'Availability, performance and quality, as well as costs in terms of energy, cleaning, resources and chemicals, can all be affected by good or bad hygienic design', James said. 'When talking about wet cleaning, time between cleaning can definitely be increased through reducing level of product build up on the equipment, using hygienically designed systems including smooth surfaces that keep the amount of soiling down', he continued. He also underlined the importance of inspecting the equipment during the validation exercises, to ensure that all components are hygienically and correctly installed.
Ana reminded about the role of hygienic design in managing the risk of cross-contamination. 'In dry processing facilities we use limited amounts of water in cleaning. But if we introduce allergens into a line that is traditionally dry cleaned, we can face microbiological problems'.
'Hygienic design helps improve cleaning performance, and consequently production', Olivier stated. He then shared the example of a company he visited, incurring in 10% extra cleaning time because of poor design. The floors had been conceived without slopes, very much needed for drainage, and so the remaining water on the grounds had to be taken away manually.
Cleaning efficiency was unanimously recognised as a critical factor in minimising downtime, and references were made to these EHEDG Guidelines: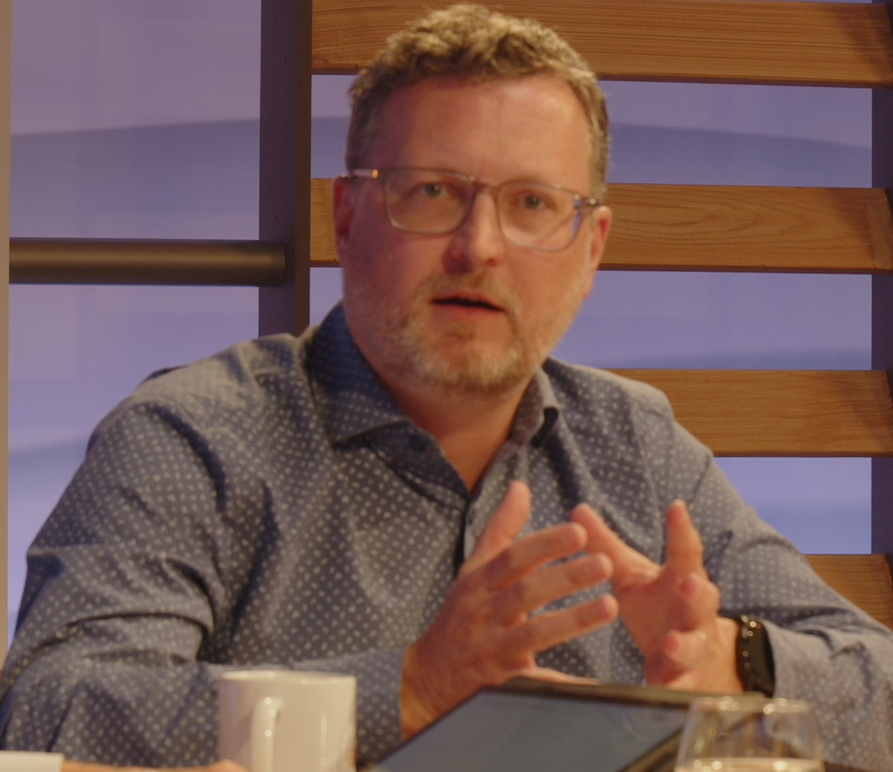 James Hartley (Mondelēz)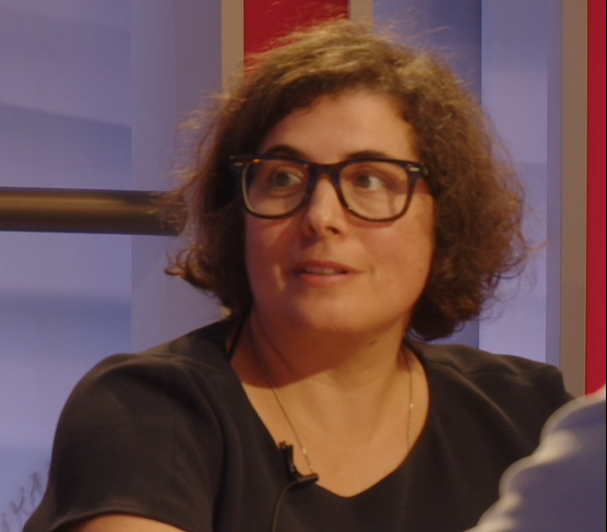 Ana Soares (Jacobs Douwe Egberts)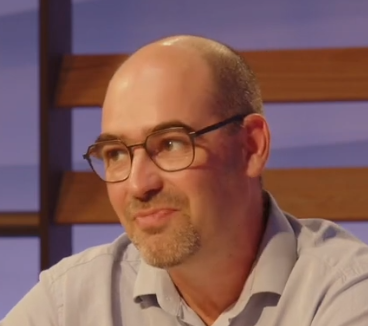 Olivier Couraud (Commercial Food Sanitation)
James pointed out the need to ensure the correct quality of environmental air, if necessary using laminar flow units or other controls, to extend the shelf life of products susceptible to yeasts and molds.
Both Ana and Olivier stressed out how legacy equipment still remains a hurdle for many, and how important it is to define good requirements, to assess whether the already installed machinery is fit for purpose. EHEDG is drafting a new guideline on Hygienic Design Risk Management, which intends to offer structural and practical guidance for each step in the process, including checklists and real examples.
All in all, the group acknowledged that hygienic design may affect many departments within the same factory. It's then crucial to understand the needs of a multidisciplinary team – without forgetting procurement and the operators on the line that will be dismantling and cleaning the equipment – and consider a structured approach with hygienic design checklists in place, from the very early stages.
'Legislation define minimum requirements, but food safety and quality are a shared responsibility of all individuals involved in the industry', Ana underlined. 'Follow best practice within the EHEDG Working Groups to build the knowledge you need, so you can go a step further'.
Panel Discussion | Hygienic Design & Sustainability Benefits
The second roundtable conversation, moderated by Matilda Freund, featured Adam Ruskin (Food and Beverage Food Safety Manager at Ecolab), John Donaghy (Head Of Food Safety at Nestle), José Mellenbergh (Food Safety Specialist & mpFC Officer at Tetra Pak PS&E Global) and Jürgen Hofmann (Consultant at Hygienic Design Weihenstephan & EHEDG ExCo Member), and offered actionable best practices on greener opportunities powered by hygienic design.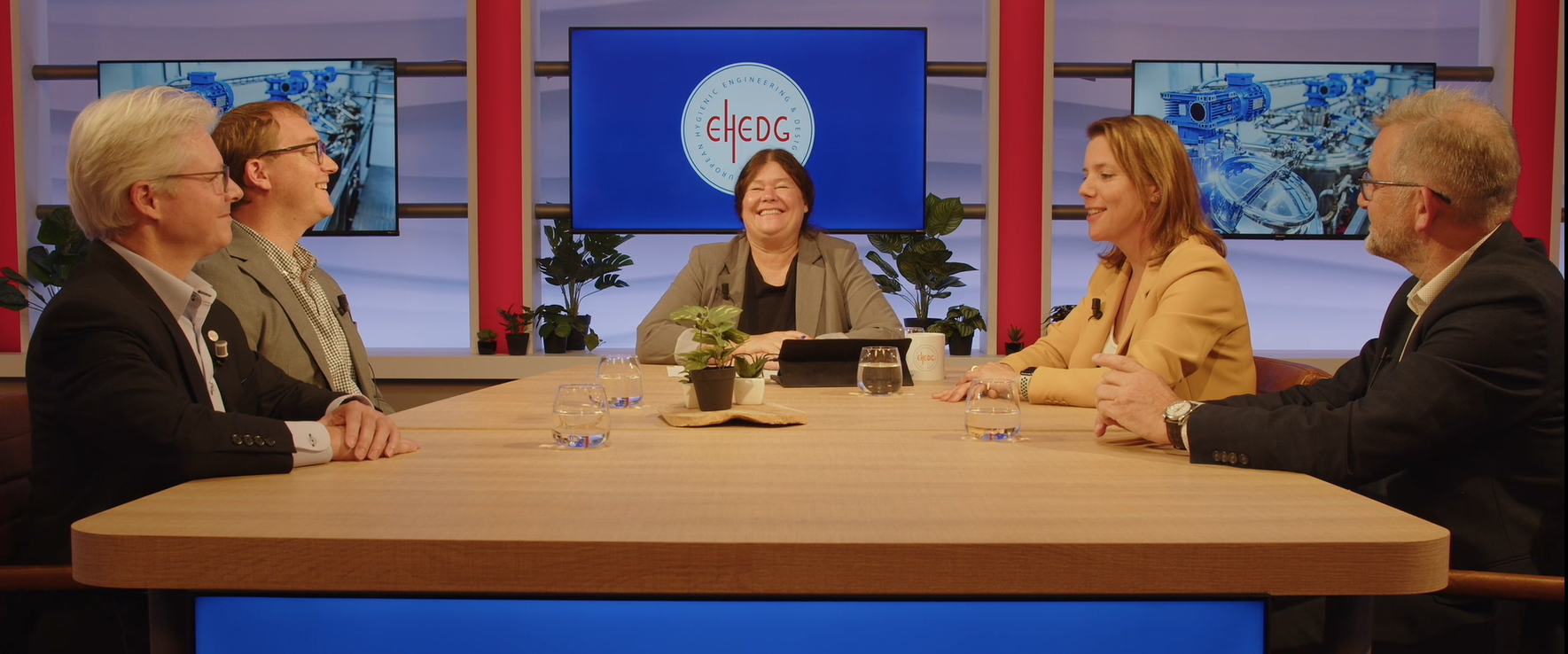 From left to right: Jürgen Hofmann (Hygienic Design Weihenstephan), Adam Ruskin (Ecolab), EHEDG Treasurer Matilda Freund, José Mellenbergh (Tetra Pak) and John Donaghy (Nestle)
'How can hygienic design help reducing water usage?', was the ice breaker question from Matilda.
'Water savings can be obtained with the use of final rinse water as a pre-rinse step in CIP stations', José said. 'Water treatment, storage and distribution, and hygienic design of course, are fundamental in water quality.' 'We're now developing methods and solutions that will allow the fouling to be predicted, so that the cleaning can be adapted accordingly', she continued. 'When a process line isn't dirty yet, cleaning can be postponed or a 'lighter' cleaning can be started. Depending on the actual fouling and planned production as well. This will reduce cleaning times and enable longer production runs. Water waste is also minimised. A solid hygienic design of the full line, including the CIP station, is therefore a requirement.'
José Mellenbergh (Tetra Pak)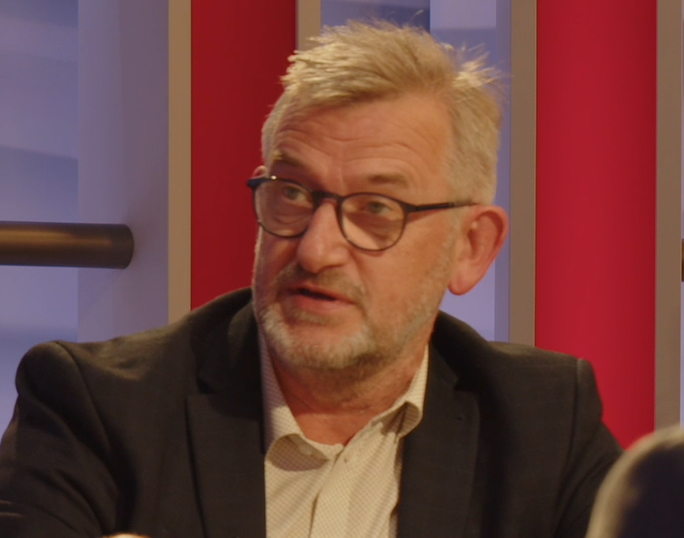 John Donaghy (Nestle)
John mentioned the 3R principle of Reduce, Reuse, and Recycle and touched upon zero-water factories, which tend to be dairy plants located in parts of the world affected by scarcity of water. 'We invest a lot in hygienic design in processes, to ensure water is treated properly and to alleviate its usage. Hygienic design is a fundamental component of our user requirement specifications', he said.
He then shared the example of industrial-sized meat slicing equipment that can be notoriously difficult to clean. 'The highest microbiological risk is Listeria and growth in hard-to-reach harbourage areas. We had a situation where high frequency cleaning was required (high use of water and cleaning sanitation chemicals), large amounts of waste were generated, and much time and energy were spent on equipment dismantling/reassembling. The re-design of this equipment alleviated a number of the drawbacks. Newly designed equipment could be controlled wet or dry cleaned and the in-situ cleaning could be performed. Large reductions in the amount of water and cleaning agents could be achieved.'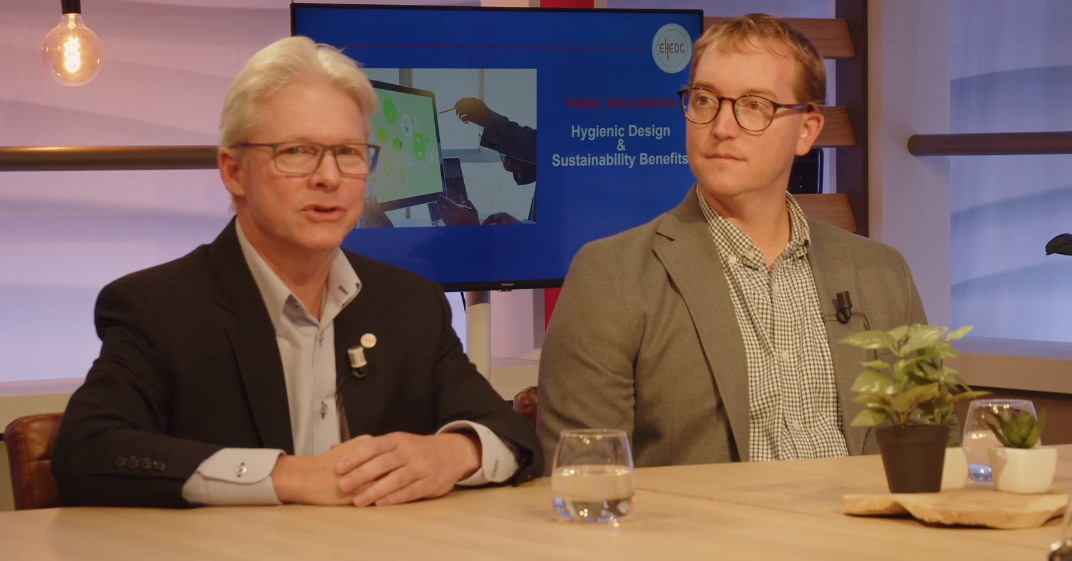 Jürgen Hofmann (Hygienic Design Weihenstephan) and Adam Ruskin (Ecolab)
'Drainability is key', Adam shared. 'It allows for the circuits to be flushed with minimum water consumption. It also improves the ability to perform cleaning operations.' He acknowledged the importance of cleaning validation. Following a validated cleaning baseline, cleaning operations can be optimised with a subsequent reduction of chemicals, energy, water, labour, downtime and effluents, whilst delivering the defined expectations.
'Drainability implies reducing dead ends, too', Jürgen added. 'With respect to sustainability, dead ends require longer cleaning time, so more energy and water resources' - besides leading to potential safety hazards. 'If the production process is changed, the cleaning also needs to change', he continued, 'But we only have one cleaning programme. With real-time monitoring of fouling we can mitigate water and chemical usage, enhancing sustainability but also food safety'.