Hygienic Design Risk Management | Working Group Update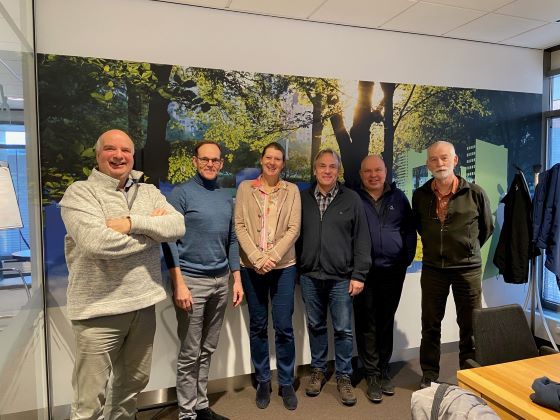 Food safety by design, in the end-to-end supply chain
One of the focal points of the GFSI benchmarking scopes is the requirement to perform a hygienic design risk assessment for food safety hazards on new and existing buildings or equipment. EHEDG is drafting a new guideline on Hygienic Design Risk Management, which intends to offer structural and practical guidance for each step in the process, including checklists and real examples.
In the photo: John Holah (Kersia), Patrick Wouters (Cargill), Gerdien Raap (Raap Interim), Dirk Nikoleiski (CFS), Alan Friis (FORCE Technology), Peter Overbosch (ex-Metro), members of the Working Group
Hygienic design risk management addresses the hygiene related hazards and their risks in the context of the hygienic design of food-related buildings and equipment. It includes a hygiene risk assessment and hygiene risk reduction based on hygienic design; hygienic construction, installation and commissioning; and residual hygiene risk mitigation - like cleaning or maintenance procedures - facilitated through hygienic design.
For the hygiene risk assessment, it is important to recognise the functional requirements of hygienic design which are the prevention of ingress, accumulation, or growth of any hazards. Key in the model is the reduction of the identified hygiene risks by the systematic application of the hygienic design principles that the EHEDG foundation has been promoting for many years. The main hygienic design principles are summarised as segregation, cleanability, accessibility, drainability, material of construction and surfaces and geometry.
The hygienic design principles are being applied in many HACCP pre-requisites programmes, the basic conditions and activities that are necessary within the organisation to maintain product quality and safety. Without hygienic design considerations, lubrication management, cleaning and disinfection, or pest management will be much less effective. Furthermore, the application of the hygienic design principles will also benefit sustainability with a less frequent and faster cleaning, resulting in reduced water consumption, cleaning agents, energy usage, waste production.
The team is working towards the goal of delivering the guideline by the end of this year. In the meantime, download the EHEDG White Paper on GFSI Hygienic Design Scopes JI and JII.