Building & Factory Design | Working Group Update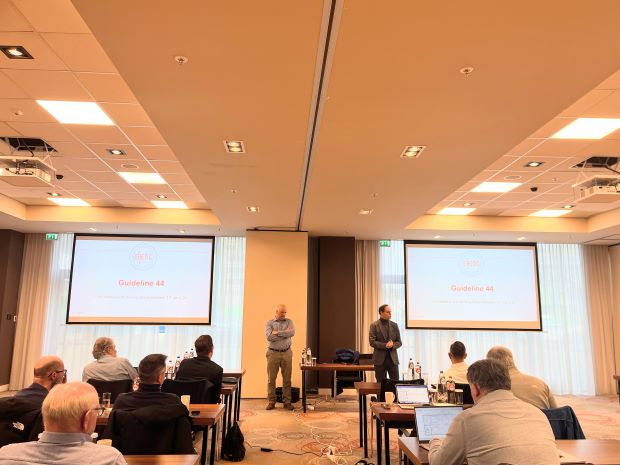 Building safe food facilities
To ensure safe food and adequate sanitation programmes, both the equipment and the factory used for processing and handling food products must be designed, fabricated, constructed, and installed according to sound hygienic design principles. But much has changed since the first edition of EHEDG Guideline 44, 'Hygienic Design Principles for Food Factories'. The Covid-19 pandemic, GFSI scopes JI and JII, but also climate change, sustainability, big data, and food safety culture have been driving the need for an update.
EHEDG Guideline 44, 'Hygienic Design Principles for Food Factories' (2014) proved to be an essential document for the industry, touching on a wide variety of questions on building design and food factory development - from the first planning phases to the turnkey delivery - which play a crucial role in mitigating contamination risks.

Its revision brought a number of subject matter specialists from important EHEDG company and institute members to Amsterdam, on the occasion of the kick-off meeting. 'Great support and teamwork will deliver the goal!', is the entusiastic approach of John Holah, Principal Corporate Scientist at Kersia Group, Chair of the Working Group Building & Factory Design.
Preliminary scopes per Sub-Group:
1. Building Design: Philosophy and Design Pre-requisites – Chair: Herwig Nollet (Polysto)
Introduction to factory design
Brownfield, greenfield, legacy design
Climate change adaptation
Sustainability & lifecycle costs
Psychology of factory design
2. Mitigating Hazards by Hygienic Design Principles - Chair: Edwin Slingerland (Ruys Groep)
Hazard management: zoning risk assessment, segregation, barrier control, airlocks, pests, materials of construction
People management: personal hygiene and cleaning requirements in the building design
3. External and Internal Building Elements - Chair: Gert Siekmans (Ruys Groep)
Site & factory envelope
Junctions and joints
Internal fittings
Health and safety references
Zoning
Movement of hazards between floors
Condensation
Installation
4. Services - Chair: Dimitri Tavernarakis (Mondelēz International)
Pipework
Fire sprinkler systems
Electrical
Air management and distribution
Waste management
Fixings
5. Managing Building Activities - Chair: Gun Wirtanen (Firma Lövås)
Managing building work during production and equipment installation – risk assessment
Building commissioning, validation and comparison with URS
Training for constructors and contractors
The team is working towards the ambitious goal of delivering a very first draft of the document by end of May 2023.
Stay up-to-date with our newsletter.