Introduction to Hygienic Design | E-learning module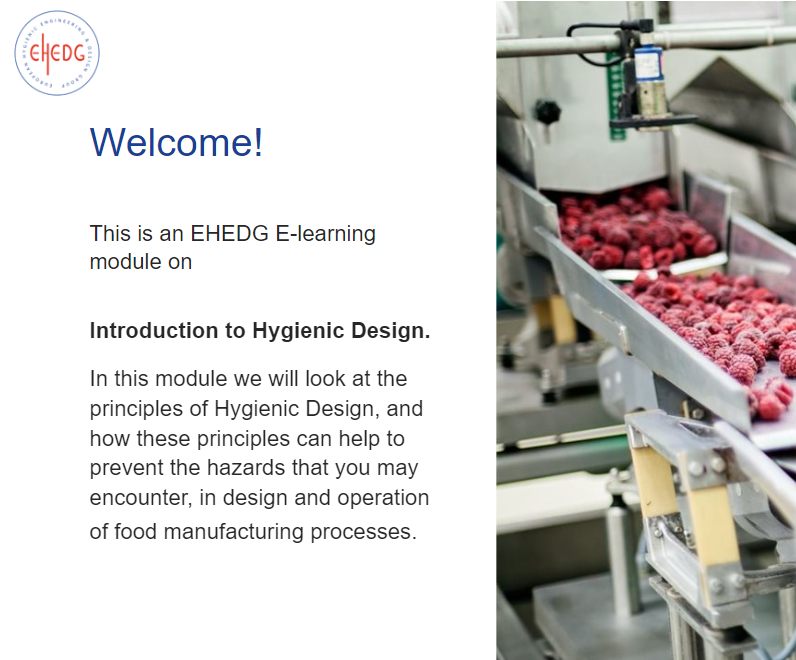 Start learning now
If you are relatively new to hygienic design or you would like to brush up on your skills, our e-learning platform is now available for EHEDG members and ready to offer an immersive educational experience, with real-life perspectives. As an EHEDG company or institute member, you can empower your team members or colleagues to harness the knowledge they need in the food safety and food quality areas. Just log in with your credentials and start working your way through the course materials, around your schedule and at your own pace.
The first session is designed to raise awareness of hygienic design principles, its benefits in the fields of sustainability, engineering, cleanability and operational efficiency, and its functional requirements. Such awareness can go a long way in helping produce a safe, nutritious and more sustainable food supply for the consumer. A brief quiz will help you reiterate the key learning points and hone your skills in solving actual problems.
In the second part of the module you will immerge yourself in an ice cream plant, where you will be asked to perform a hygienic design assessment. You will be able to explore hygienic design related issues in areas such as formulation & mixing, pasteurization, ageing, blast chillers, filling machines and packing – and put your knowledge into action. A timely identification of hazards is a must to prevent contamination.
Upon successful completion of the e-course, you will also earn a certificate of achievement that you can share with your network. Just be sure to score at least 80%.
Access the website with your credentials and start learning now.
Are you part of an EHEDG company/institute member but do not have credentials? Get in touch with us at officeProtected mail-address@ehedg.org