Potential Ban Of PFAS On Food Contact Surfaces In Food Manufacturing/Processing Equipment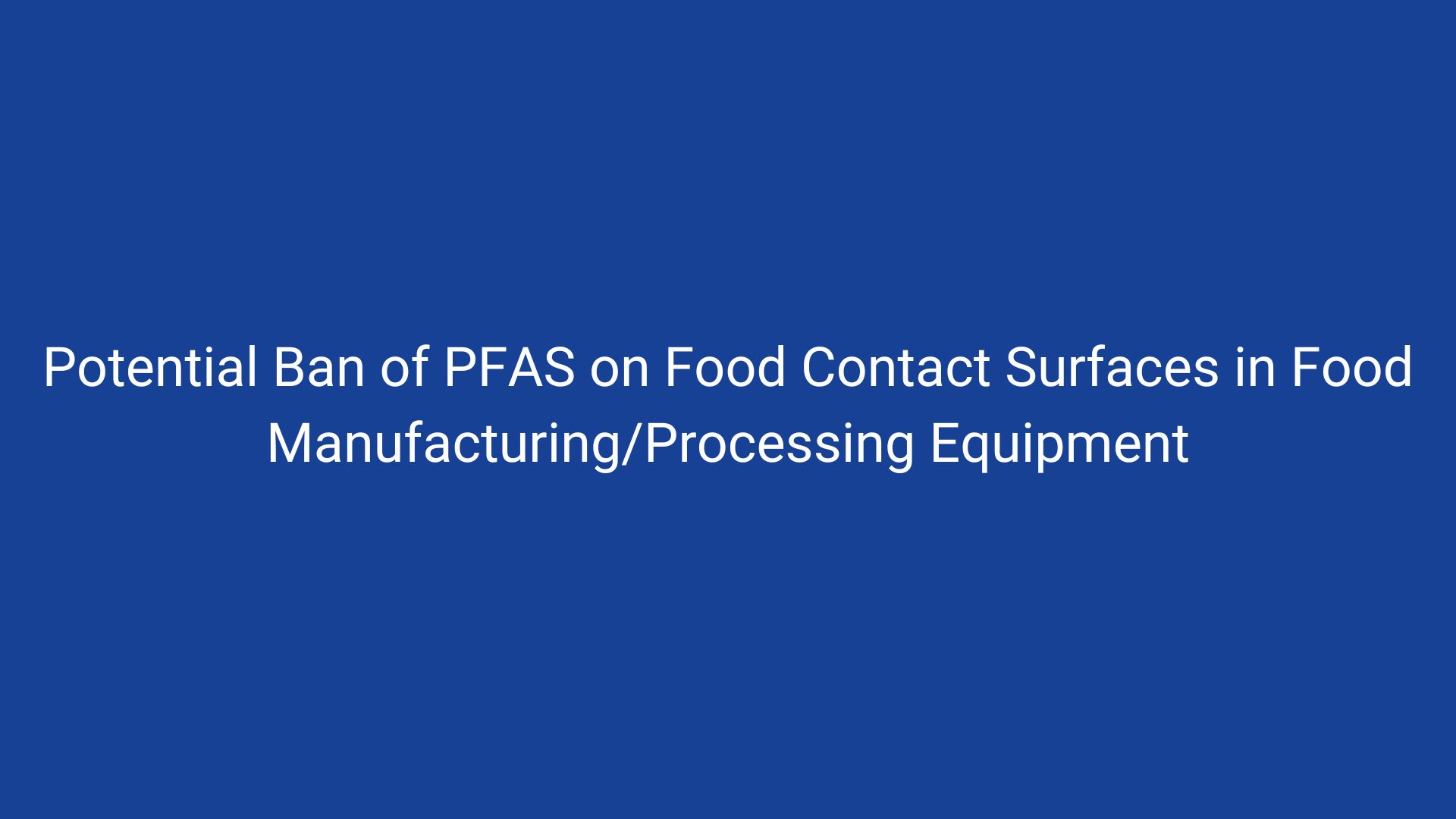 Position Paper available now
As a foundation dedicated to promoting hygienic engineering and design practices, EHEDG understands the need to balance sustainability, safety and innovation in the manufacturing sector. We therefore acknowledge the importance of addressing environmental and health concerns related to per- and polyfluoroalkyl substances (PFAS) under the REACH regulation. However, we believe that a more differentiated and risk-based approach is necessary to address the potential ban in materials used in (food) equipment and plant engineering.
The current restriction proposal requires further refinement to ensure both environmental protection and the continuity of essential (food) industry processes.
For this reason, in consultation with a group of subject-matter experts from member companies, we have drafted a Position Paper on this topic. This document has been submitted to the European Chemicals Agency (ECHA) and the relevant authorities, urging them to take our recommendations into consideration, and work collaboratively to develop an effective solution.
Download the EHEDG Position Paper
We thank the following EHEDG members for their valuable contributions:
Eva Fleischmann, Freudenberg Process Seals GmbH & Co. KG
Rainer Kreiselmaier, Freudenberg Process Seals GmbH & Co. KG
Alain Lebail, ONIRIS Food Science UMR GEPEA
Michael Burger, Endress+Hauser Flowtec AG
Hein Timmerman, Diversey (EHEDG President)
Patrick Wouters, Cargill (EHEDG Vice-President)
Roger Scheffler, Commercial Food Sanitation L.L.C. - An Intralox company
Thomas Böhm, EagleBurgmann Germany GmbH & Co. KG
Patrick Dorsch, GEMÜ Gebr. Müller Apparatebau GmbH & Co. KG
Christian Geubert, Angst+Pfister Group
Tim Schrodt, Endress+Hauser (Deutschland) GmbH+Co. KG
Important note:
If you haven't submitted your feedback to ECHA on the Annex XV restriction report, we urge to do it on short notice!
As we value you as industry stakeholders, please provide your input on the ECHA website at your earliest convenience, but at least before the final deadline, 25 September 2023.
You may find it practical to first gather all comments in this Excel sheet, as the online ECHA questionnaire doesn't allow you to save your answers and come back at a later stage.